Why have a safe in your home or business? Safes are additional security layers you use to store valuables and keep them safe from theft or curious eyes. There are lots of items that you may want to keep in a safe. In your home, you may keep jewelry, money, even important documents like your Will or the deed to your home. If you keep large sums of cash on hand, you can sleep peacefully knowing it is safely stored. You may want to store documents that prove your homeownership, loan contracts, or any other information you don't want to lose.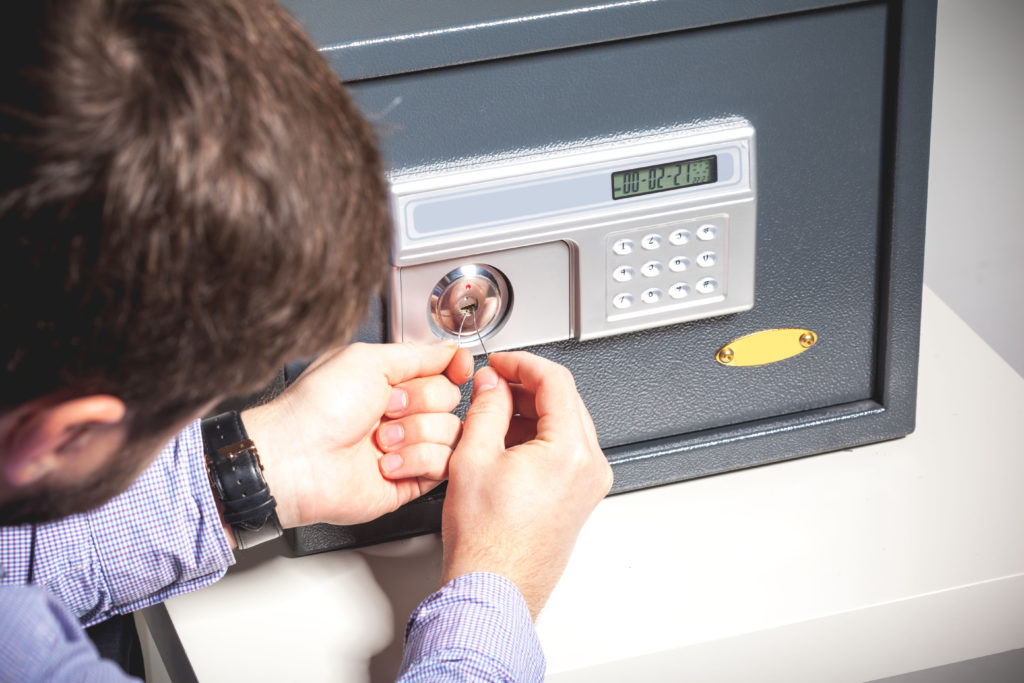 In your office, you may want to keep lots of important paperwork pertaining to the company and even extra cash on hand. Some business information may be confidential, which is why it is best if you keep it in a safe. No one can steal it or even access it.

Safes are one of the best ways you can keep valuable assets safe. When you choose the right kind of safe, you are placing your items in a durable chamber that should be able to keep those items safe from those that want to get their hands on them.

Safes can vary in size and in the way they operate. They are generally equipped with locks that either require a key or the more high-tech versions which require a correct code combination.

You've probably seen a movie where there was a safe hidden in the wall of someone's home, but they don't have to be used only in residential properties. Business owners often have classified documents hidden away in a locked safe that only certain members of their staff can access with their permission. That's all well and good until they find themselves unable to access their possessions because they somehow become unable to open their safe.

What can make someone get locked out of their own safe?

There are two main reasons you might get locked out of your own safe and need a locksmith.
You have lost your key to the safe.
You can't remember the code or combination.

When do you need a safe locksmith?
If your home or business is near the Bellevue, Washington area, Bellevue Locksmithing can help correct the issues at hand in those situations. We are available from Monday to Sunday and generally can get to you in 30 minutes or less. We have highly experienced safe technicians which are hard to come by. We pride ourselves on our expert knowledge and can generally fix most safes that are available in the marketplace today.

We consider ourselves to be expert safecrackers. There are no safes we can't open. When you call us, our expert team will gather information about the type of safe you have so that we come prepared with the right equipment for opening that type of safe. We analyze the situation on the spot and will do everything possible to open your safe without damaging it.

How do you get into the safe?

One solution is to drill-out. When you call a safe technician or locksmith to retrieve the contents of a safe one method used is side drilling allowing the technician to reach the bolt itself. They will likely bore a hole into the side of the safe using a long nine- or ten-inch drill bit.

The other most direct method is to drill into the face of the lock in order to reach the lever or drive cam. After accessing the lever or cam, the locksmith can use a punch rod to push them out of the way or bend them until they are no longer obstructing the path of the bolt.
Do Mechanical locks fail and can a Safe Locksmith help?

Yes. Without regular maintenance lock combinations, over time, can tend to drift and at some point, the owner can no longer open the safe.

We see both mechanical and electronic safe locks fail. The main advantage of an electronic lock is that if the electronics on the keypad do fail, most can simply be swapped out easily. If a dial fails, you are definitely hiring a locksmith to drill and repair the safe. Electronic safes do allow you to get into them a bit faster using a simple punch code, however.
What happens if you lose the keys or forget the code to my safe?

We can rekey the lock or reprogram the safe's code.
Do I need to purchase a new safe or hire a safe locksmith?

At Bellevue Locksmithing we offer the services of removal, installation, and sales of safes. We can show you options on new safes and are happy to remove your old one and install the new one. We can install a new safe making sure that you have the latest possible solution to protect your possessions.

Bellevue Locksmithing is an expert in installing different types of safes and locksmith practices. Our experienced team can help you to choose the right safe and lock combination for your needs. Once we settle on the best solution, we'll handle the installation in the shortest possible timeframe. You will receive the keys to the safe or set up the code to access it. No matter what your needs are regarding safes, we will be very pleased to care about you.