The first and foremost thing, when you have locked your keys in your car and get in the vehicle is… Are You Safe? Being locked out of your car is a very upsetting and frustrating thing. You are standing there looking into your locked car and can see the keys sitting on the seat or dangling from the ignition. Slap head with palm in exasperation. How could you have done this silly thing?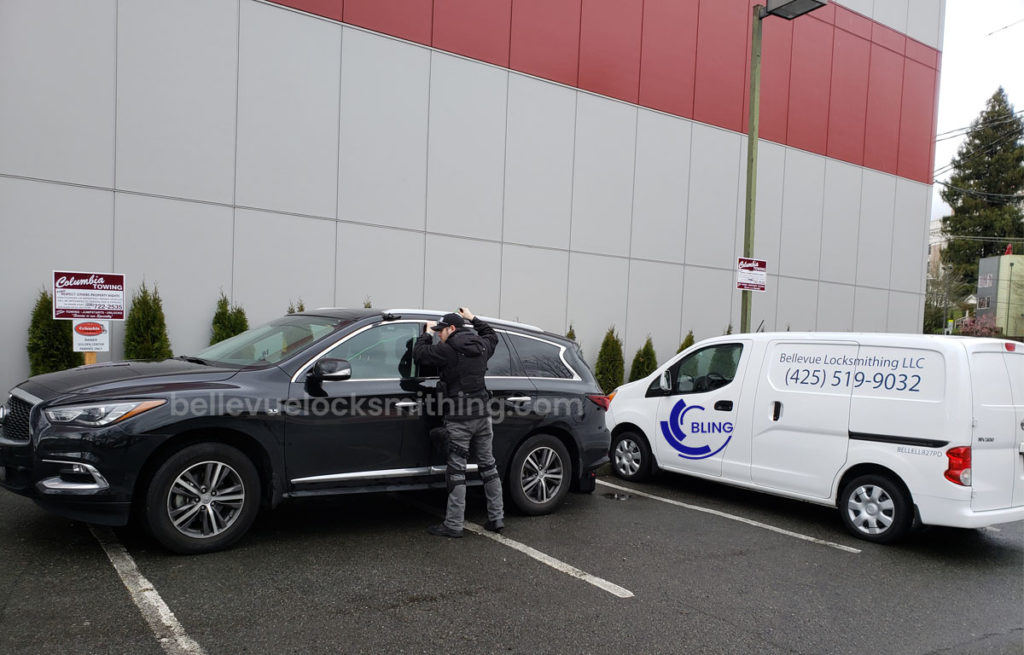 Well, don't beat yourself up. At Bellevue Locksmith, we get these kinds of calls pretty much daily. Everyone is living a busy life. People go shopping or run to grab the dry cleaning or a pack of cigarettes and, oops, the keys get locked in the car, often with the car running. Older cars didn't come with systems that keep you from doing that. If you are in a safe place and can wait for a professional and licensed locksmith to arrive, make the call and wait with the car.
If you are in an emergency situation in the Bellevue, Washington or surrounding areas and you are locked out of your car, give Bellevue Locksmithing a call at (425) 519-9032. We have been helping people in this situation for many years and making sure people get back into their car safely and quickly is one of our favorite things to do.  You will see our company name on our vehicles and on all our paperwork and even the uniforms of our technicians. When you choose us, you have the extra layer of security in knowing who we are and that we are true pros there to take care of you properly.
If you consider the job of a locksmith, you might realize that safety and security are at the heart and soul of what we do. Our only goal is to protect and secure the car, home, or business of our clients.  Bellevue Locksmithing has a wide variety of emergency locksmith services and we work all over King County to help if you locked your keys in your car.
Our regular service hours are from 7 am to 11 pm 365 days a year including holidays and our emergency services are available in the Bellevue, Kirkland, Issaquah, Sammamish, Redmond, Seattle, Shoreline, Lynnwood, and Woodinville areas. We do offer after-hours emergency services so don't despair if you are locked out of your car late at night.
We realize that when you are locked out of your car, this is a situation that needs to be corrected quickly. We have set a goal to get to you and your vehicle within 30 minutes of your call each and every time. Rest assured that Bellevue Locksmithing, has the professionalism and experience to help you in your time of need.

But don't locksmith's cost a fortune?
Actually, calling a locksmith in an emergency car lockout situation can save you a lot of money and be the cheapest and fastest way to solve your problem.
We have the diagnostic tools, key cutting machines, software, and hardware to make you a brand, new car key from scratch on the spot. Don't just assume that you will be stuck having to tow your car to the dealership. Nearly all of the time, we can save you that headache and cost and have you on your way, safely in your vehicle, in no time flat. Towing your car to the dealership can be expensive and may require special equipment just to tow it there.  It will take either a wheel lift with dollies or an experienced flatbed driver with "skates" to pull the vehicle up onto the tow truck bed.
Then you will have the high cost of using the dealership, who will probably have to order your keys as they won't likely have them in stock. Most dealerships don't see it as cost-effective to stock keys to cars anymore. This can mean, high costs and your waiting days to get your car back. How inconvenient would that be?
At Bellevue Locksmithing, we stock a wide variety of transponder keys, high-security keys, and smart proximity keys. Calling us when you lock your keys in the car can save you the high cost of towing and dealership pricing. We will arrive quickly and make new keys right where you and the car sit to get you back in the driver's seat and on your way, right away.
Why should you choose Bellevue Locksmithing in an Emergency?
Honest pricing. Bellevue Locksmithing offers premium locksmith services at affordable rates. We are competitive and honest in our pricing and you will be surprised to find how affordable we are especially when you see the quality of our service.
We keep up with technology. The technicians at Bellevue Locksmithing are very aware that locksmithing services are constantly changing and improving. We keep up with technology and use the latest equipment and tools. Our entire staff continues to learn and adapt to the latest in modern techniques of solving lock-related issues.
The best in customer support. We answer our phones every day of the year from 7 AM to 11 PM. When you call us, one of our expert technicians will be ready and willing to advise you. Once we decide on the best course of action, we will dispatch a locksmith to get to you as quickly as possible and usually within 30 minutes of your call.
So, the next time you are dealing with the unhappy situation of being locked out of your car. call Bellevue Locksmithing. You will love the friendliness and efficiency of our technicians and we hope you will establish a relationship with us that makes us your go-to locksmithing company.